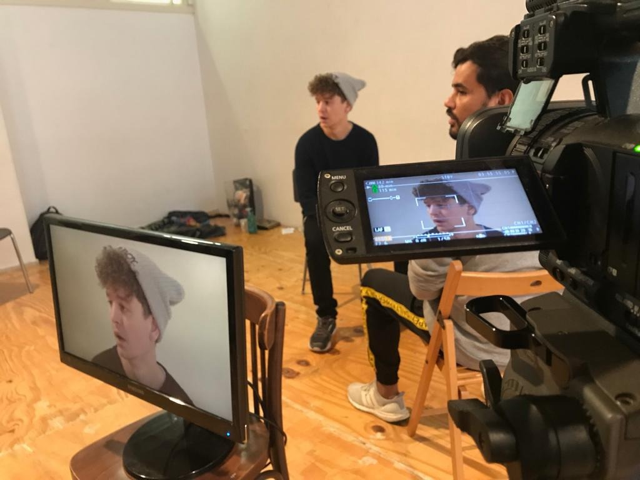 "I found Tony's Masterclass "…invigorating, inspiring and incredibly freeing…"
"..Total game changer for me…"
"Tony shows you the way to your own artistic truth, in a direct and straight forward manner. I walked out of his workshop with a rekindled passion for acting. Thank you Tony!"
—————————————————————
-You will discover how easy it is to create an authentic character, deliver lines as the truth, feeling free and being absolut believable for the camera.
– You will learn how to let go of your thinking and self-judgments, discover something beyond your own control and personal blockages.
– You will develop the trust and courage to stay in the moment to experience more joy and freedom in your acting. Getting out of your head and in to the present!
—————————————————————-
Coaches;
I am very proud and happy to have my wife and partner since 20 years co-teaching in the masterclass. Manouk will support this masterclass with her experiences from film and tv sets. She will for instance share how she makes the set her own and how to create a "love relationship" with the camera.
Manouk van der Meulen: More than 10 000 hours and 38 years of experience as an actress on film and TV sets. Manouk started her acting career at 1982. She have been seen in BBC series as "Touch of Frost" and "Close Relations". More info about her more than 50 credits on IMDB. https://www.imdb.com/name/nm0582811/?ref_=nmvi_tt
Tony Grahn: Founder and developer of ReFocusMethod. Graduated as an actor at the national acting academy in Sweden 1991. Graduated as a director at Drama Studio London 1996.
—————————————————————-
Day 1,
After a short theoretical introduction over the method we will work with powerful and yet simple relaxation exercises. This to create a strong awareness of the tensions in the body, your personal tics and physical habits. As well you will find out how to let go of them when needed.
After having experienced the power of this body awareness you will learn how to direct your attention (focus) on specific things in a scene using your 5 senses.
The result of this is to in any given situation create a strong and solid presence, and thus deliver text and movement totally authentic and believable.
At the end of day 1 we will to work with these skills in short scenes/situations.
Day 2,
After a short recap from day 1 you will work with exercises to learn to access and deliver strong emotions within a very short time of preparation.
We will continue the day by exploring the physicality of the characters in the scene; movements, body language, energy, voice…
In the afternoon we will begin to work in front of the camera. We will explore the subtle work of the facial muscles in a close up, as well where the character choose to look in a scene.
At the end of the day we will work with exercises related to casting situations.
Day 3,
Shooting day.
We will work with the scenes in front of camera.
YOUR FILMED MATERIAL WILL BE SENT TO YOU AFTER THE MASTER CLASS.
Dates: 21, 22, 23 August (3 full days)
Time: 10:00 – 17:00
Venue: TBA, Amsterdam
Cost: € 375 (+VAT) 2 coaches – 3 full days. Strict limited to 8 participants.
To apply for a place in the workshop please go to form: https://form.jotform.com/200313137014335
Some acting experience or previous acting training is required to participate.
Any questions, please don't hesitate to contact me by email, phone or WhatsApp.
PAYMENT AND SIGN UP FEE:
WHEN YOU HAVE A PLACE IN THE MASTERCLASS YOU WILL BE ASKED TO PAY DEPOSIT OR FULL AMOUNT TO SECURE THE SPOT.
DEPOSIT OR PAYMENT WILL BE REFUND, OR MOVED TO NEXT CHOSEN WORKSHOP BY PRESENTING CONTRACT ON ASSIGNMENTS AS AN ACTOR ON THE SAME DATES AS THE MASTERCLASS. OR ILLNES (WITH MEDICAL CERTIFICATE).
More information and testimonials: www.refocusmethod.com
Best Regards, Tony
tony@refocusmethod.com
Phone: +46 (0) 72 554 7711